In the past, buyers on northern Vancouver Island were usually Canadian retirees looking to get away from it all. However, the pandemic has sparked two new trends.
First, younger Canadians are flocking to towns like Port Alberni, Campbell River, the Comox Valley and even the North Island.
Second, people are cashing out and leaving cities in western Canada, Washington, Oregon and California. They are swarming to the Island and driving housing prices sky-high.
VanIsle's pleasant climate will always attract people. But the real estate feeding frenzy threatens to tip communities out of balance. When that happens, it reduces the quality of life and affordability that brought new buyers here in the first place.
Since the pandemic, smaller towns that were hidden gems are suddenly hot markets. They're attracting younger folks who are taking advantage of work-from-home options made possible by the pandemic.
It's nice to be popular, but the new wave is making life too expensive for many long-time Vancouver Islanders. Renters in some smaller communities can't find a place to live or are now forced to pay more than half their income to keep a roof over their heads.
Foreign Buyers
The migration from crowded, expensive cities is a new trend. In 2019, a survey by the Vancouver Island Real Estate Board found that foreign buyers were rare. They made up less than one in twenty buyers in a few communities and none in most.
The pandemic changed things.
Now, sales to foreigners, particularly Americans from the West Coast, are soaring. They are looking for far away, pretty places that are safe from extreme weather, crime, and water shortages.
"I think with the heatwave happening down there, the drought, that kind of stuff, these areas look better to them," said Logan Wilson, a realtor with Sotheby's International Realty Canada, in a Globe and Mail report.
"A lot of buyers are relocating out of California…You can come here and water your grass and take a shower and do what you want, whereas [in parts of the US] you have a moratorium on water use and much higher temperatures."
Douglas McGowan, another Sotheby's agent, says they're selling lots of $3 million-plus homes to American buyers who have never even seen the houses.
"I would go one step further than Logan [Wilson] and say the buyers are not just from California, but right up the coast, from Oregon, Washington," McGowan explained to the Globe and Mail. "We are seeing a lot of Washington professionals buying on the Island and the whole west coast of the US"
Whatever their motivation, these new buyers are driving prices up fast.
Huge Jump in Housing Prices
The housing crisis that troubles Vancouver and other west coast cities are now rippling out to VanIsle. The wave of off-island buyers continues to warp the housing market, which was already unaffordable for many locals.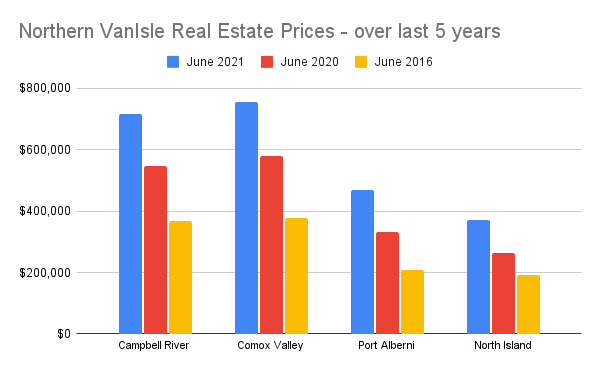 In June, prices for a single-family home Island-wide spiked 31% over the last year to $714,700, up 3% from May.
The situation is worse in some smaller towns. For example, according to the Vancouver Island Real Estate Board, prices in Port Alberni were up 41% over last year, with an average house now costing $468,100. On the North Island, the average single-family house now costs $372,600, rising 41% over the twelve months.
Things weren't quite as bad in Campbell River and the Comox Valley. There, the annual increases were only 29% and 30%, but prices still rose over $100,000 on average this year.
VanIsle's affordable housing shortage is made worse by owners who only use their houses for a few weeks a year. Even though people are desperate for rental housing, an increasing number of houses are empty much of the time. Lots of rentals are only available as short-term vacation rentals through Airbnb.
A group of businesses in Ucluelet is having to scramble to build affordable homes for workers who have trouble finding places to live. Expensive housing on Salt Spring Island — and other places with big seasonal holiday populations — has caused businesses to close because they couldn't find staff. As a result, the Islands Trust has had to prioritize affordable housing and recently put forward a controversial plan.
Tax foreign owners and vacant houses – First, Small Step to Fix a Big Problem?
John Horgan's government brought in the provincial Speculation and Vacancy Tax to tame the spiking prices in the Lower Mainland. He needs to do that for all of Vancouver Island.
The tax now only applies to Metro Vancouver, the Fraser Valley, the Capital and Nanaimo regional districts, Kelowna and West Kelowna, but not to northern Vancouver Island or the Gulf Islands.
Isn't Vancouver Island's red-hot real estate market exactly what the tax was designed to fix?
Where the tax has been used, it has helped. A government study showed the tax calmed the housing market by reducing speculation and encouraging owners to rent out their empty houses.
VanIsle's recent spike in housing prices may be good for some homeowners and developers who could make a ton of money. But it's not good for the long-term health of our communities. Both rich and poor folks need somewhere to live that they can afford.
Even real estate agents are getting worried. Royal LePage realtor Richard Plowens pointed out to Globe and Mail that Parksville and Qualicum, once quiet retirement communities, "are now the second most costly communities outside of Victoria."
Plowens doesn't think spiking prices are sustainable. "We deal with all age groups, and younger buyers here are feeling the pinch. The mortgage rules have tightened up, and they have limits on what they are allowed to spend. And we need young people to keep a community going."