Melissa Fletcher knows a lot about ferries. Not the ones you read about in children's stories. The ones you take when you live on an island that's off an even bigger island.
She owns the Alert Bay drug store and can see the ferry from the window. She also uses it all the time to shuttle her daughters back and forth for activities and to bring parcels to clients in Port McNeil.
"I know what time it's supposed to be in," she told the North Island Eagle. She's often found looking out the window to see if the Island Aurora is coming into the dock on time.
She uses that special insight as Chair of the Tri-Island Ferry Advisory Committee (FAC). The FAC keeps folks updated on changes to ferry service between Port McNeill, Alert Bay, and Sointula.
But, maybe, more importantly, she collects the communities' ideas and concerns and brings them to BC Ferries.
It's a hard job. Folks on Cormorant and Malcolm Islands depend on the ferries. The members of FAC are answering calls and emails all the time. They also work with BC Ferries all year round to make sure the organization knows what people need from the service.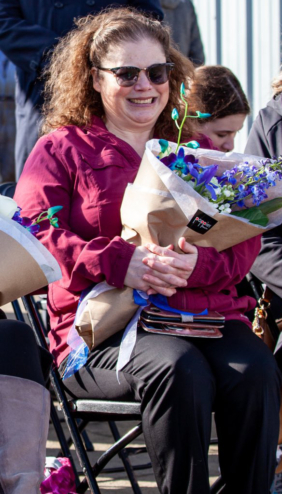 BC Ferries recognize that FAC is super important. Brian Anderson is the Vice President of Strategy and Community Engagement. "The community insight and understanding that our Ferry Advisory Committees provide us with is invaluable," he told the North Island Eagle.
"We rely on them not only for community-centred advice, but also helping us get information out to the community, especially when changes are afoot."
Fletcher has been on the FAC for about ten years. She only recently became chair. It's a volunteer position.
Why put in all that work for no money?
"Everyone has to give back in some way. I use the ferry a lot and want to make sure it stays accessible to everyone and everyone is updated," says Fletcher.
In 2020, Fletcher was honoured by BC Ferries for her years of service. When the hybrid Island Aurora was launched, BC Ferries named her one of the co-sponsors. That means it's up to her to bestow good luck on the boat and everyone who rides it.
She thinks of it as "her" ferry.
And she thinks it's important for folks to consider volunteering for the FAC.
"By volunteering, you learn to appreciate other people's views and feelings on similar things," she said. For her, it's a positive and rewarding way to connect with folks from the area and with the people at BC Ferries.
When she's not running the drug store or helping folks with the ferries, you can find her out in the woods with her family. But she won't tell you where her favourite places are.
"Those are secret!" she laughed.