The 24th annual Tour de Rock took off from Port Alice on Monday, September 20. A bit of cloudy weather and some COVID protocols couldn't keep these cyclists down!
Usually, Tour de Rock is one giant group of cyclists that rides the whole Island. But to keep the event COVID-safe, this year's ride has smaller groups staying close to their home communities.
This year's NorthIsle team includes Alli Roberts, Rob House, Brent Vose, and Dave Brown. They spent two days riding, eating, and collecting big donations for children's cancer research.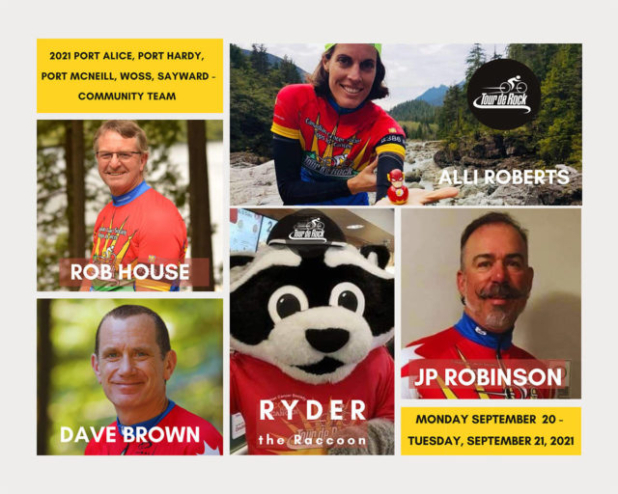 The riders fuelled up on Monday morning with a pancake breakfast in Port Alice. They left town with more than $5,000 in donations.
They spent lunch in Port Hardy, where they hung out with a crowd of supporters who donated even more money.
By the evening, they'd made it to Port McNeill. That's where they hosted a Burger and Beer fundraiser at Gus's Pub.
Tuesday, they biked through Woss and Sayward.
The ride continues this week with a new set of cyclists taking over in Campbell River.
Tour de Rock hasn't raised as much money these past two years. COVID has made it harder to have big fundraising events.
But that hasn't totally stopped Vancouver Islanders.
This year's Tour aims to raise $650,000 for children's cancer research and support services, including Camp Goodtimes.
You can still donate to this year's Tour at the Cops for Cancer webpage.