Sharon Karsten has spent a lot of time talking to unhoused folks in Campbell River. She's the executive director of Walk With Me, a project that highlights the stories of people affected by the toxic drug crisis.
One thing folks bring up is how unsafe it is to sleep outside.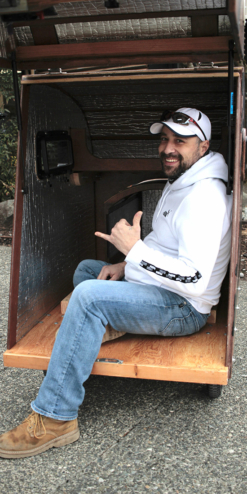 "There's a long list of things that have been thrown at people at night as they were sleeping," Karsten told Mark Kitteringham at the Campbell River Mirror. "From bottles to eggs, to whatever; it was an endless list."
So folks from Walk With Me and Kwesa Place got together and came up with the idea for the tiny home pods.
Shawn Decaire of Kwesa Place designed the prototype. The first pod has handles and wheels so it can be moved like a wheelbarrow. That gives folks a lockable space to store their stuff in during the day.
The pod has a section that pops out, so folks have enough room to lay down and sleep at night.
The wooden pod keeps the person protected from wind and rain, but it's also fire-resistant. It has windows that can be opened and closed from the inside for a bit of air.
Decaire painted Indigenous art on the prototype. He used the sea trout motif. The sea trout is "one of those creatures that's always evolved through evolution. In the seas, all of the animals lived on it, so it's part of every animal. It's part of the birds, part of the whales, the bears."
He called the first pod the "Angel Pod" as a tribute to two community members who died earlier this year.
Karsten knows this isn't a solution to the housing crisis. But she also knows folks need help now. "We'd like to have this as an emergency middle ground between sleeping in tents—if people want it," she told the Mirror reporter.
They're hoping to have 30 units built by the fall.