Some people make art with paint. Others make art with clay. Alex Witcombe makes art with driftwood. And there's a lot of driftwood around VanIsle!
Witcombe started making driftwood sculptures in 2016. He graduated from The Emily Carr School of Art and Design in Vancouver and then moved to the Gulf Islands. He never looked back.
You can find his art all over VanIsle. He has sculptures from Victoria to up past Sayward. And each one is different.
His first piece was Sheila the dinosaur. He built her in one day back in 2016 on Story Beach in Campbell River. A picture of Sheila went viral.
"It just kind of blew up on social media a bit and was like, 'Oh, okay, cool, let's do some more,'" he told CBC.
Witcombe's most complicated piece is probably is full-sized 1967 Volkswagen Beetle. He finished it in 2020. The doors even open so that folks can sit inside!
"Just don't wrench on the steering wheel too hard; it doesn't turn," he joked with CTV News. "Don't do the gear shift. You break it; you buy it!"
He got the idea for the VW Beetle because he needed a new truck and trailer. So he made a sweet deal with Black Creek Motors, where his "car" is on display.
His bug is a copy of a real Beetle on Quadra Island, where the car was built. He got Roadkill Recovery to tow it to Black Creek. Mark Richmond, who drove the tow truck, told CTV that he was mobbed by folks wanting to check it out.
But the Beetle is also a tribute to his dad, Edward, who passed away in 2020. "I always said to him, dad, when I'm rich and famous, I'm going to buy you a VW Beetle," he told CTV. So the bug is named after his dad.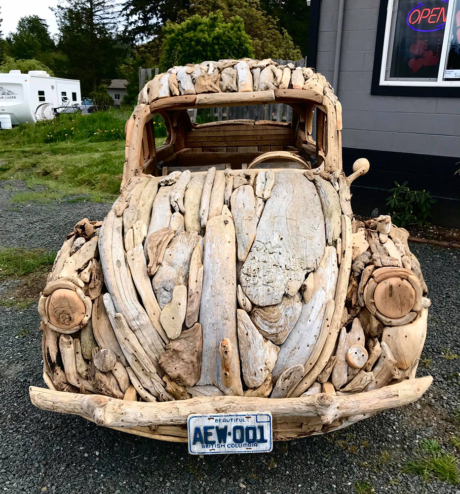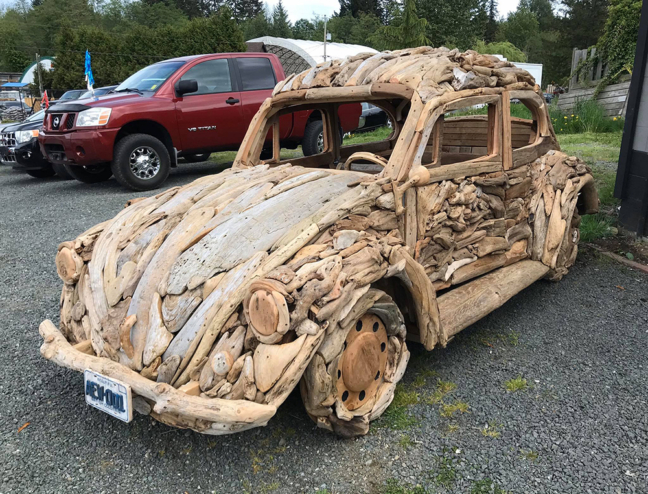 Witcombe's creations include eagles, another Volkswagen, and even a Sasquatch. You can take yourself on a driftwood sculpture scavenger hunt in Campbell River.
And he's just about to display a new piece, too—a really big one.
There is no word yet where it will live, but you can pop over to Alex's Facebook for a sneak peek!