As we approach the holidays, families are coming together to celebrate.
Some family feuds may happen as they do, but one Campbell River family has gone out of their way (and across the country) to represent our little city in a good old-fashioned family throwdown.
The Roberts family just appeared on Family Feud Canada in an epic face-off with "The Wilsons."
It's something they'd been laughingly bringing up for years, but with the holiday get-togethers approaching, they decided it was time to go for it.
"I'm the type of person that likes to walk my talk," Sheryl Thompson told the Comox Valley Mirror. "And so I say, you know what? Time's up, let's do this."
She got together with the rest of her family squad (Julie Bronson, Robyn Ross, Iris Rayburn, and Marian Atkinson) and brainstormed the best way to stand out in an audition.
All descendants of the former hereditary chief Bill Roberts, and members of the We Wai Kum First Nation, they decided there was no better way to shine than by showing off their roots.
"We all wore our cedar bark hats," Thompson said. "It showed Campbell River, it showed our Nation, the canoes. It was really good."
The CBC was clearly a fan of the audition tape and flew the whole family out to Toronto to put them on TV.
"It was a little bit surreal," recalled Thompson to Chek News.
"For me, I don't think I was really thinking about what's going on, that we're going to be on TV".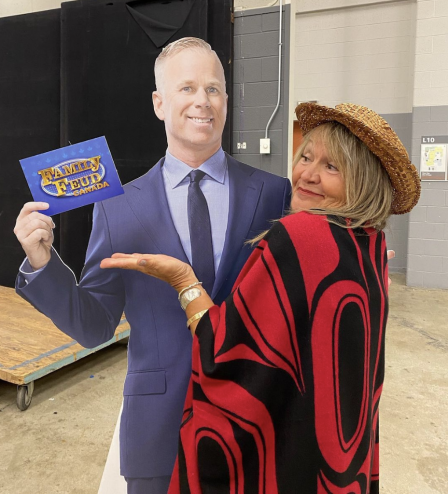 During the game, the family did great to begin with, but in the end, nerves got the better of them.
"They take you to the set before taping, and we were really excited because when we did the run-through, we did really well on that. We are acing all the answers, then I don't know what happened to the actual game," she said with a laugh.
"Stage fright, maybe?"
Regardless, they had a good laugh and a great time and were happy to show off some VanIsle culture on set.
"The Roberts family have been living in Campbell River for over a thousand years. We're proud to represent them today," said Sheryl Thompson, during the episode. 
Despite not winning the big prize, they all came away with $200 to spend on activities in the big city, like watching a Blue Jays game and visiting Niagara Falls.
But still, the best part for Thompson was coming home and getting to connect with everyone in the community who was excited to see someone from their neighbourhood on TV.
"I encourage anybody to give it a try," she said.
You can check out the family's episode on CBC Gem if you'd like to watch it, or audition to take a shot at the spotlight!