Salmon don't carry passports. Individual countries are responsible for looking after the streams, creeks and rivers in which salmon spawn and reproduce.
But when Salmon enter the ocean phase of their lifecycle, they swim in international waters and across borders.
So salmon hatched in BC inland waters spend anywhere from one to three years in the Pacific. This raises difficult questions: Whose fish are they?
Allocating commercial catch limits for salmon on the West Coast requires difficult negotiations between Canada and United States.
Following record low salmon returns in recent years, former federal fisheries minister Bernadette Jordan suspended 60 percent of BC's commercial salmon fishery last June. Jordan also announced a license buyback program, part of the $647 million Pacific Salmon Strategy Initiative to recover depleted stocks.
But the sacrifices made by BC fishers could be all for nothing. Alaskan fishers are now the largest catchers of many endangered BC stocks, while our salmon fleet is tied up at the dock and communities make big sacrifices to protect wild salmon.
"This isn't just a matter of Alaskans stealing our fish. They're INCREASING their catch of our salmon and driving our fish towards extinction while Canadian fishers and taxpayers try desperately to turn things around," said Aaron Hill, executive director of Watershed Watch Salmon Society.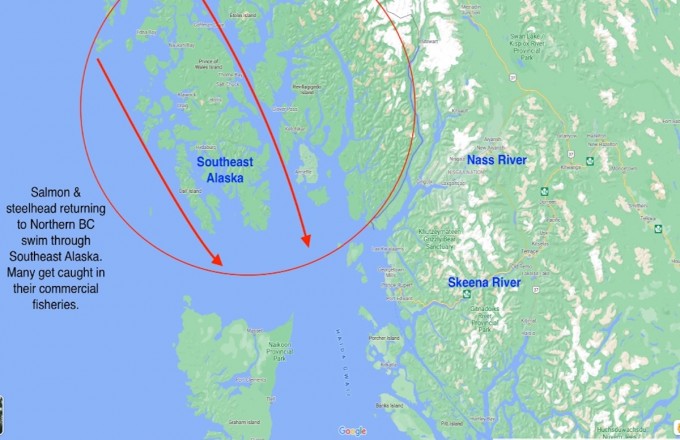 While Alaska does a better job than BC in taking care of the habitat of their own salmon, they're being pretty lousy neighbours when it comes to their treatment of BC-hatched salmon.
A new study has shown that commercial fishers in Alaska are catching a growing share of salmon bound for BC rivers, while many of our runs hit historic lows.
The study was paid for by Hill's organization and SkeenaWild Conservation Trust. It shows that while BC's commercial salmon fishery was mostly idle last summer, the Alaskan fishing fleet logged more than 3,000 boat days and caught 800,000 tonnes of sockeye. Most of these fish were bound for BC rivers.
The Alaskan fleet caught 51,000 "Canadian" Chinook, 540,000 coho, 1.2 million chum, 34 million pink and an unknown number of steelhead by-catch. Many of them come from threatened and endangered populations in BC.
Ocean fishing in Southeast Alaska could be contributing to recent declines in BC salmon returns. Over 90 of the catch of some Vancouver Island chinook stocks occurs in Alaska. A similar imbalance is happening with Skeena, Nass and Fraser stocks.
"We knew the Alaskans were intercepting a lot of BC salmon," said Greg Knox of SkeenaWild, "but the numbers in this report are staggering. I'm also appalled at their failure to report their bycatch of non-target species, which Canadian fishers are required to do."
The report's release comes at a time when Canada and the US are meeting at the Pacific Salmon Commission to review bilateral management under the Pacific Salmon Treaty. The current treaty expires in 2028. Historically, changes to the agreement have been too small to impact Alaskan fisheries in a meaningful way.
Last fall Skeena-Bulkley Valley MP Taylor Bacharach went to Washington D.C. to raise concerns about Alaskan overfishing of BC salmon and steelhead.
"The Pacific Salmon Treaty has failed to protect our salmon and we can't wait until 2028 to fix it," said Aaron Hill. "The governments of Canada and BC need to stand up right now and do something about this Alaskan plunder."